Sydney to Receive $1 Billion Investment
Sydney is to receive $1 billion worth of investment from Chinese investor Dalian Wanda after US equity firm Blackstone said it was selling a Sydney office building to the group for A$415m ($327m; £218m).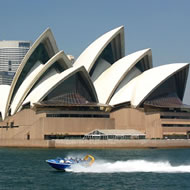 The building itself, Gold Fields House, is in Sydney's central business district and overlooks Sydney Harbour where Dalian Wanda intend to build a luxury hotel as well as residential and retail outlets in the area.
Backed by Chinese billionaire Wang Jianlin, who is worth around $13.2 billion, the Wanda group is China's largest property conglomerate and has been making several high profile purchases across the globe as of late. These include an agreement to invest nearly $2bn in London and Madrid hotels and properties in the past two years as well as a plan to open up amusement parks in China to rival the likes of Walt Disney and Universal Studios, a 20% stake in Spanish football club Atletico Madrid for €45m ($52m; £34m), US cinema chain AMC and luxury British yacht maker Sunseeker.
In a statement about their investment in Sydney, the Wanda group said:
"We look forward to creating a new Sydney landmark," suggesting they have something impressive planned for their new development in Australia although this is not the first time the group has invested in the country as they announced in August last year that there would be an investment of  $900 million in a joint venture project on the Gold Coast to develop a luxury hotel and service apartments.
With the company diversifying its portfolio away from weak domestic markets in China, many more acquisitions like this are expected to arise in the future. Sydney Harbour is an iconic tourist location and further development of it will only add to its status as a must see tourist attraction and will hopefully bring in more money and investment from both traders and tourists alike.
Australia is seeing increasing investment in its economy from China with large deals involving construction, infrastructure and farming all coming about recently and a new free trade agreement has also seen increasing trade between the two countries and greater interest in Australia from China as it looks to supply its burgeoning middle classes with more goods and services. Naturally, Australia is only too happy to cash in on this with their plentiful natural resources and other valuable goods and assets.
Hong Kong listed shares of Dalian Wanda Commercial Properties were up 3.4% after the deal was announced.
For more information on incorporating in Australia visit us at www.startanaustraliancompany.com or email [email protected]